I started working on it 9 months ago, but picked up a side job soon after and haven't pursued it since. The side job should wrap up in another few months, but if you'd like to do Rally X, go ahead as I haven't written any Atari code yet. All I got done was found the map for the arcade level 1, wrote a short QBASIC map tool and made some notes.
In case you find it useful, I've included a GIF of the map of level 1 from the arcade, as well as my map conversion tool and it's output. The map from the tool is output twice, once in the normal view and once rotated. I was going to experiment with the rotated map to see if it would help make the map scroll routine faster(at the expense of memory).
Notes:
Player 0 - car
Missile 0 - flags & rocks. To eliminate flicker, don't allow flags/rocks to exist on the same row
Player 1 - enemy car
Missile 1 - enemy car - there can be up to 8 enemy cars so I planned to dividing them up between player and missile to reduce flicker. The odd number cars would be Player 1, even number cars would be missile 1.
Ball - smoke screen
radar screen - flicker between 2 colors, 1st screen update showing the flags in one color, 2nd screen update showing the enemy cars in another color. Show the player's car position on *both* updates - this way the player's car will appear to be a 3rd color.
graphic ideas
Normal Flag:
X
XX
XXXX
XX
X
X
X
X

Times 2 Flag:
X
XXXX
XX
XXXX
X
X
X
X

Lucky Flag - I had planned to have "New RallyX" as a selectable game variation
http://www.klov.com/game_detail.php?letter=N&game_id=8855
XX
XX
XX
XXXX
X
X
X
X
For the enemy car I was going to do a "hover craft" so that I wouldn't have to draw wheels(hard to do when using missiles).
Enemy car going right
X
XXXX
XXXXXXXX
XXXXXXXX
XXXXXXXX
XXXXXXXX
XXXX
X

8 game variations
Rally X
1) Normal - start on wave 1
2) Medium - start on wave 4
3) Expert - start on wave 7
4) Child's - start on wave 1, but with just 1 enemy car. Still increase car count by 1 each round(wave 2 would have 2 enemy cars)
New Rally X- adds lucky flag which does not show on radar and gives a bonus based on fuel remaining when found
5) Normal - start on wave 1
6) Medium - start on wave 4
7) Expert - start on wave 7
8) Child's - start on wave 1, w/1 enemy car
Attachment: map1.asm
Description: Binary data
DIM map(56) AS STRING
REM                 1         2         3
REM        12345678901234567890123456789012
 map(1) = "               XXXXXXXX         "
 map(2) = " XXX XXXXX XX      XXXX XXXXXXX "
 map(3) = " XXX XXXXX XX   X  XXXX         "
 map(4) = "                X       XXX XXX "
 map(5) = " XXXXXX XXXXX      XXXX XXX XXX "
 map(6) = "               XXX XXXX         "
 map(7) = "    XXXXXX X XXXXX XXXX XXXXXXX "
 map(8) = "X X      X X XXX                "
 map(9) = "X X XXXX X X XXX XXX XXXXXXXXX X"
map(10) = "X X X    X X XXX XXX X       X X"
map(11) = "X X X XX X X     XXX X       X X"
map(12) = "  X X XX X X XXX XXX X XXXXX X X"
map(13) = " XX X    X X XXX XXX X XXXXX X X"
map(14) = " XX X XXXX X         X       X X"
map(15) = "    X      X XXX XX  XXX  XXXX X"
map(16) = " XX X XXXXXX XXX XX  XXX  XXXX X"
map(17) = " XX          XXX XX  XXX  XXXX  "
map(18) = " XXXXXXXXXXX XXX                "
map(19) = "      XX                  XXX XX"
map(20) = " XXXX XX XXXXXXX  XXXXXX  XXX XX"
map(21) = " XXXX        XXX  XXXXXX      XX"
map(22) = " XXXX XX XXX XXX      XX  XXX  X"
map(23) = "      XX XXX      XX  XX  XXX  X"
map(24) = "X XXXXXX XXXXXXX  XX  XX  XXXX X"
map(25) = "X                 XX           X"
map(26) = "X XXXXXX XXXXXXX  XXXXXX  XXXX X"
map(27) = "X XXXXXX XXXXXXX  XXXXXX  XXXX X"
map(28) = "X                               "
map(29) = "X XXX XX XXXX XX  XXX XX  XXXX X"
map(30) = "X XXX XX XXXX XX  XXX XX  XXXX X"
map(31) = "X XXX XX XX           XX  XX   X"
map(32) = "X XXX XX XX X XX  XXX XX  XX X X"
map(33) = "X             XX  XXX     XX X X"
map(34) = "X XX XXX XXXX XX      XX     X  "
map(35) = "X XX XXX XXXX XX  XXX XX  XXXXX "
map(36) = "X          XX XX  XXX XX  XXXXX "
map(37) = "X XXXX XXX                      "
map(38) = "  XXXX XXX                      "
map(39) = "         XXX XX XXX XXXX  XX XX "
map(40) = "  XX XXX XXX XX XXX XXXX  XX XX "
map(41) = "  XX XXX XXX        XXXX  XX XX "
map(42) = "   X XXX XXX XX XXX       XX    "
map(43) = "  XX         XX     X XX  XX XX "
map(44) = "  XX XXXXX XXXX XXX X XX  XX XX "
map(45) = "  XX XXXXX XXXX XXX X XX  XX XX "
map(46) = "                    X        XX "
map(47) = "XX XXX XX XXXXX XXX X XX  XX XX "
map(48) = "XX XXX XX XXXXX XXX X XX  XX XX "
map(49) = "XX                    XX  XX XX "
map(50) = "XX XXX XX X X X X X X XX  XX XX "
map(51) = "XX XXX XX X X X X X X XX        "
map(52) = "    XX    X X X X X X     XXXXX "
map(53) = " XX    XX X X X X X X XX  XXXXX "
map(54) = " XX XXXXX X X X X X X XX     XX "
map(55) = " XX XXXXX X X X X X X XX  XX XX "
map(56) = "                          XX    "

FOR m = 1 TO 56
  FOR p = 1 TO 32
    IF MID$(map(m), p, 1) = " " THEN
      MID$(map(m), p, 1) = "0"
    ELSE
      MID$(map(m), p, 1) = "1"
    END IF
  NEXT p
  PRINT map(m)
NEXT m

OPEN "map1.asm" FOR OUTPUT AS #1

FOR c = 0 TO 3
  PRINT #1, "map1col"; LTRIM$(STR$(c))
  FOR m = 1 TO 56
    PRINT #1, "  .byte %" + MID$(map(m), c * 8 + 1, 8)
  NEXT m
NEXT c

FOR c = 0 TO 6
  PRINT #1, "map1rcol"; LTRIM$(STR$(c))
  FOR m = 32 TO 1 STEP -1
    PRINT #1, "  .byte %";
    PRINT #1, MID$(map(c * 8 + 1), m, 1);
    PRINT #1, MID$(map(c * 8 + 2), m, 1);
    PRINT #1, MID$(map(c * 8 + 3), m, 1);
    PRINT #1, MID$(map(c * 8 + 4), m, 1);
    PRINT #1, MID$(map(c * 8 + 5), m, 1);
    PRINT #1, MID$(map(c * 8 + 6), m, 1);
    PRINT #1, MID$(map(c * 8 + 7), m, 1);
    PRINT #1, MID$(map(c * 8 + 8), m, 1)
  NEXT m
NEXT c

CLOSE #1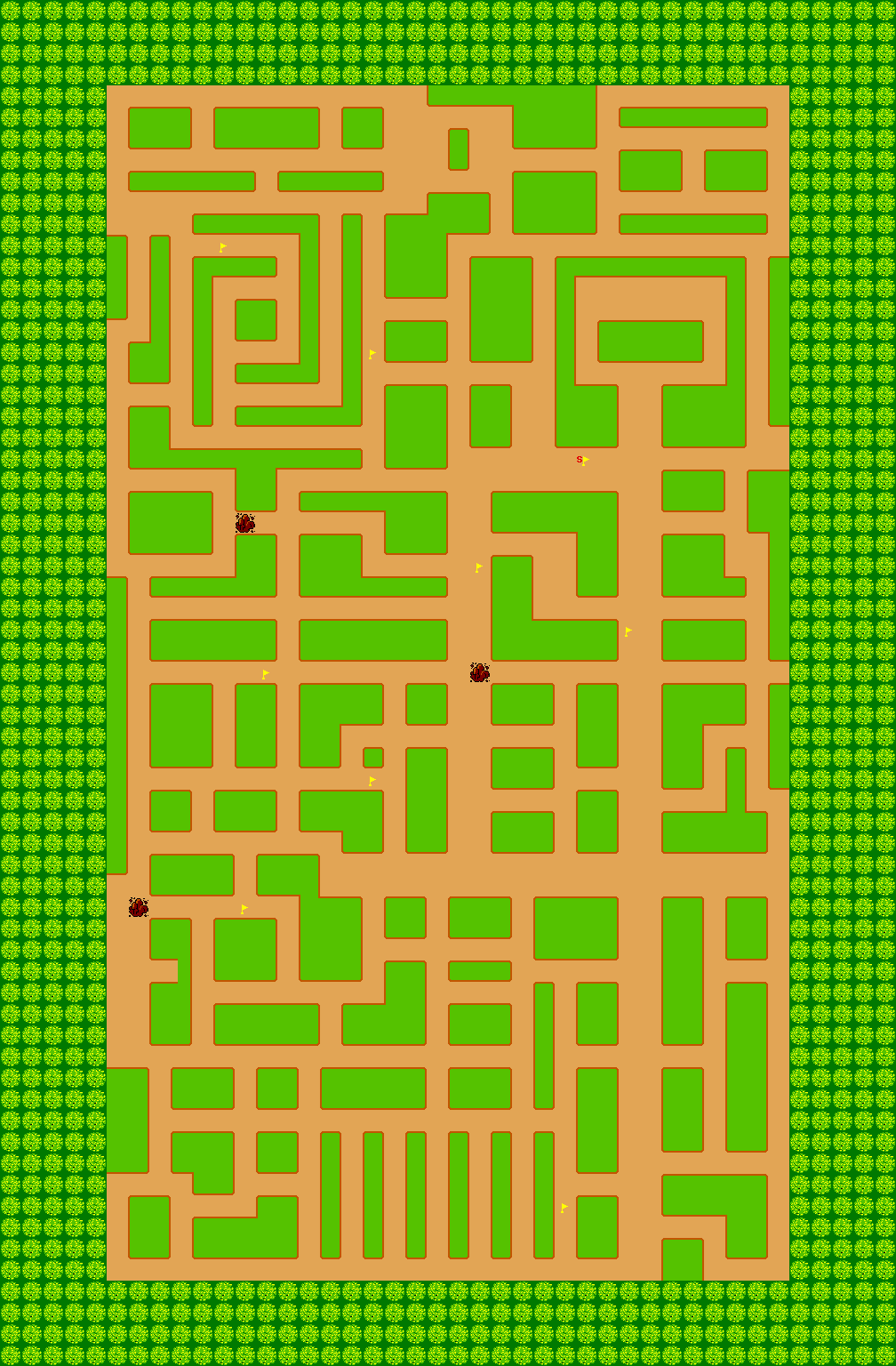 On Apr 3, 2004, at 10:31 AM, Anthony Davies wrote:
Hi,

I'm looking to do a game similar to Rally-X, it has been a while since I
wrote any assembler (22 Years and I was 14).

The question is has anyone done Rally-X or is working on it, I know its
going to be a long hard job to write it and if it's already being done I'll
find another idea.

I have a scrolling playfield partly working together with the main player.

I'm not fooling myself into thinking this will be easy, and I'm not sure I
have the ability yet, but I like a challenge.

Having fun ...

Anthony

p.s. My ISP decided to put a spam filter on my mail causing the mailbox to
fill up then sending a response to everyone that my mailbox was full. If any
of these got to the list, please accept my apologies.



----------------------------------------------------------------------- -----------------------
Archives (includes files) at http://www.biglist.com/lists/stella/archives/
Unsub & more at http://www.biglist.com/lists/stella/